Co-Ed by Rachel Van Dyken
Publication Date: April 24th, 2018
Genre: Contemporary Romance
Four guys.
Constant moaning.
And a revolving door across the college suite I somehow ended up in because my first name is Shawn.
They don't discriminate. Girls. Guys. Grandmas. Plants (okay maybe not plants) all walks of life stroll in stressed to the brim, and leave so satisfied I'm wondering what sort of talents lie behind that door.
My roommate calls them the pleasure ponies.
But the rest of the college campus?
They just call them the new face of Wingmen Inc. A paid for relationship service that makes big promises.
Breakup? They'll glue you back together again.
Depressed? They have the magic pill.
Lonely? Just spend a few minutes while they rub you down and you'll forget all about it.
And broken hearts? Well, that's their specialty. They'll fix you
For a price…
I swore I wouldn't get involved.
But apparently they like a challenge, and a girl who doesn't put up with their BS is basically like waving a red flag in front of a bull.
They. All. Charged.
But one holds my attention above the rest.
Knox Turner looks like a Viking — and getting pillaged is starting to look more appealing by the day. Though he's hiding something — all of them are. And the closer I get. The more I realize that some things are left better in the past.
You've read reverse harem books before — but you've never read one like this. It's not what you think, or is it? Dive in and find out…
Knox, Leo, Finn, and Slater are waiting, and they aren't patient men.
Welcome to the new face of Wingmen Inc — You're welcome.
Read Today!
Amazon US: https://amzn.to/2HoyB5c
Amazon UK: https://amzn.to/2qV9eRM
Amazon CA: https://amzn.to/2Jk0PPm
iBooks: https://apple.co/2nWbFjk
B&N: http://bit.ly/2u1cEXR
Kobo: http://bit.ly/2u208ap
Add to Goodreads: http://bit.ly/CoEdGR
Excerpt:
It was happening again.
The moaning.
I put a pillow over my face and screamed.
Not because it was too loud.
But because I kept wondering who was causing it. One? Two? All three? Leo and Finn had both tried to talk to me in class and at the coffee shop again. I'd brushed them off but been polite.
And Knox?
Well, let's just say that Knox had suddenly turned over a leaf that said, "Go out of my way to make Shawn's life miserable."
He was suddenly everywhere.
And with a different female every single day.
It drove me insane.
Bat-shit crazy.
And he wasn't even mine to go senseless over!
The moan happened again.
"That's it!" I got up from my bed, stomped over to the door, and jerked it open. Then I pounded my way over to their room and almost took down the door with my knock .
When Leo answered, he grinned down at me. "Come to play?"
I gave him the finger.
His eyes narrowed. "I'm confused. Is that yes or no?"
"Agh!" I threw my hands up in the air. "I have practice tomorrow at five a.m. It's three. I've had one hour of sleep. Can you please keep the moaning to a minimum?"
"You seem stressed." He tilted his head just as Finn joined him in the doorway. "Doesn't she?"
"Very." Finn nodded then reached out and started massaging my right trap while Leo grabbed my hand and worked my fingers. It felt so damn good that I forgot I was pissed for about two seconds before I pulled away.
"No." I jabbed my finger at each of their chests. "Shame on you. Stop using your skills to make me less crazy. I need sleep."
"I could not agree more." Leo put his hand over his chest. "If you want, I can come over and—"
"No!" I made a fist with my hands. "I don't need you to help me sleep. I need you to keep your clients quiet so that I can sleep. Big difference."
Knox appeared then and held out a pair of Bose noise-canceling headphones. "You can borrow them every Friday as long as you don't set them on fire when you're done."
"Do you think I really want whatever STDs are crawling around the surface?" I hissed.
His eyes turned lethal. "Then I guess you won't sleep."
"Dun, dun, dun," Finn sang in a low voice, just as a small lady who could pass as my grandmother made an appearance and shoved a fifty-dollar bill in Knox's pants then patted him on his rock-hard six-pack. She had a full-on red wig perched backward on her head and cherry red cheeks with black glasses that she kept shoving up her nose. And her purse looked like something I would have seen on I Love Lucy. It was this giant black clutch that probably held cough drops and prunes.
"Thanks, boys."
"Love you, Edna!" Finn called while Leo brushed a kiss across her hand.
She finger-waved at Knox and straight-up waddled out of the suite.
I stared after her, my jaw dropping with each step she took until she was out of eyesight.
"What…" I shook my head. "…I mean, seriously, guys, what?"
Finn's eyes got serious. "She's lonely."
"She's at least eighty!" I yelled, so exhausted I was actually arguing with crazy.
Knox got all up in my business and said through clenched teeth, "Her husband died a year ago. She's not comfortable with internet dating yet. We're easing her in because she wants a partner for life, someone she can laugh with, so if we can give her that one laugh, that nice touch once a week, we're going to fucking do it. Now jump off that pedestal, take the damn Bose, and go to sleep."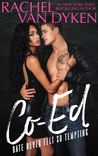 Co-Ed by Rachel Van Dyken
My rating: 5 of 5 stars
5 out of 5 'The legacy continues' Stars
I was totally psyched about this new book having read the Wingmen Inc series previously. I thoroughly enjoyed Ian and Lex's stories and kinda felt sad when they ended and there were no more books in the series. And even though this is a continuation in the series, it can be read as a standalone. Reading previous stories would just provide insight. Buuuut reading the previous stories would be pretty badass though since they are awesome stories. (Just saying.)
So this is a continuation of the Wingmen Inc., series with Knox, Finn, Leo and Slater. I hope to all that is holy that the other three get their own stories. Please please please!!!!
ANYway……tragedy is something that is not easily dealt with. You either move on, ignore, dwell, self-destruct or accept. (I'm sure there are tons that I'm missing here but you get the point.) The current men of Wingmen Inc. have history between them. A tragedy occurred and they are all dealing with it in their own way. Knox chooses to remain static. He's not moving forward. Just going through the motions. He's doing his job at Wingmen Inc, but he's not forgiving himself for the past.
Enter Shawn. Shawn has the fortune? misfortune? of having a boys name with the same exact spelling as a boy would spell it. She's mistakenly place into the dorm of Slater, Knox, Leo and Finn. Geez, can a girl get lucky or what? I thought it was tough for Shawn because not only was she being thrown in the middle of a dorm room with four guys but she was thrust in the midst of the feud between the guys too. Their drama became Shawn's drama.
I loved the push and pull between Knox and Shawn. He didn't want to like her. Tried hating her. Tried being her friend. And in the end he just couldn't help himself. Oh how the mighty have fallen. It was perfect. And the added suspense behind the history that attempts to repeat itself made this story a real page turner. I honestly had no idea who was behind it all until right before it happened. (Not gonna spoil it.)
The ending was perfect. I loved every freaking second and the cameo appearance of Ian and Lex with their wives at the end was just awesome. So I'm making my plea now (again). Please please please let there be a story for Finn, Leo and Slater. Please?
Happy Reading!!
View all my reviews
Meet the Author:
Rachel Van Dyken is the New York Times, Wall Street Journal, and USA Today Bestselling author of regency and contemporary romances. When she's not writing you can find her drinking coffee at Starbucks and plotting her next book while watching The Bachelor.
She keeps her home in Idaho with her Husband, adorable son, and two snoring boxers! She loves to hear from readers!
Connect with the Author:
Facebook: https://www.facebook.com/RachelVanDyken
Website: http://rachelvandykenauthor.com
Newsletter: http://bit.ly/RVDNewsletter
Instagram: https://www.instagram.com/rachvd
Twitter: https://twitter.com/RachVD
Amazon: http://amzn.to/2cNVwL9
Goodreads: http://bit.ly/RVDGR
Rachel's Rockin' Readers: http://bit.ly/RachelsRockinReaders